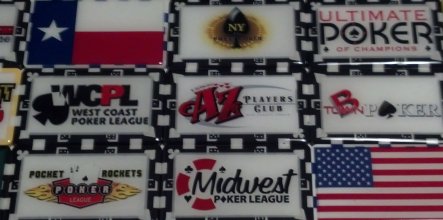 Custom Card Protectors
Custom Card Protectors is a privately owned small business I run that creates custom card markers for poker events, leagues and enthusiasts.
Promotion and Additional Revenue Stream
Our card markers will provide your poker club, charity or commemorative event with an additional revenue stream. Imagine putting your logo along with sponsor names on the chip to sell or hand out during your event. Maybe put a limited number or the year on the chip to make them collectible.
Reward Your Players
If you run a poker league, you can put your club's logo on the chips and sell them at your games. Then reward your players for bringing the chip to each game with bonus chips. This makes a great alternative to selling hats or shirts. Maybe have a custom chip made for each of your players with their name on it!
Create a One-Of-A-Kind Chip
We're happy to make just one or a few chips as well! Just send us your artwork or picture and we'll help make your vision come true!
Other Ideas!
How about putting your business card on a chip? Or make a custom "bounty" chip? Your imagination is the limit!